Tips to Buy Jewellery to Gift Someone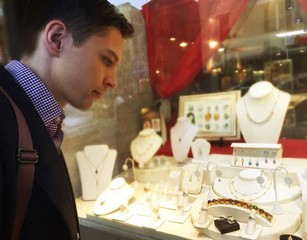 Gifting jewellery is such a great idea. Jewellery is a long-lasting gift and also a symbol of love, friendship. Before buying jewellery, you need to think about whom you are buying this jewellery and what is his/her taste in the jewellery. Give a thought about their personality, choice, and colour. Let's talk the key points.
1. Material
You need to find out that the person will like silver, gold or other metal jewellery. Do they prefer any colour, crystal, diamond or too much fancy? Now the question is, how will you find the person's choice? You can see what type of jewellery they usually wear or you can ask from their close friends and family. If they wear platinum then you can buy a platinum ring as a wedding gift.
2. Style
This is the toughest thing to decide whether you should buy something elegant or something bolder and fancy. This is totally depends on the person for whom you are buying. Some people prefer to wear very elegant and simple buy the jewellery look very nice. On the other hand, some people prefer to wear too fancy jewellery, bigger and bolder. I assume that jewellery is a precious gift so you know the person very closely and you know its choice also.
3. Type
The confusion is what you should buy, a necklace, ring, bracelets or earrings? Ring and necklaces are the best choices if you are buying for someone special i.e. your girlfriend, wife, mother. These both are very nice jewellery to gift especially on the occasion of birthday, anniversary or any special occasion.
You can gift earrings or bracelets to your closest friends. There is no hard and fast rule, you can gift the jewellery what you would like to gift. At last, jewellery is jewellery.
Type of Jewellery you can gift
1. Rings
If you are buying ring for someone you should know the following things before buying ring to someone.
Know the size of the finger
Can you get the ring exchange if it doesn't get fit?
Can you borrow the ring so you can check the size before buying?
Different style of rings varies in size and fitting so take care of that it look good on the person's finger.
2. Bracelets
Bracelets usually come in small, medium or large size. There is also a option of cuff bracelet which has an open back so it can be adjusted as per the hand size. Buy designer bracelets womens at cost-effective solution.
3. Necklaces
Most women have few necklaces so gifting necklaces is a great idea. The standard necklace length is 18″ and it can be modified later also. Something Drift Pendant and Stalactite Pendant are the great choices to pick her up. Annie haak is the perfect brand for buying necklaces.
4. Earrings
Be sure that person has her ears pierced before gifting earrings to her. There are different kinds of earrings t consider i.e. stud earrings, short drop earrings or long drop earrings.
If you are still unsure that what type of jewellery you should gift to your loved one, friend or someone special then take help online or some person who can help you in that.